Come join us for a ride, a refreshing beverage, a chat, and bike history talk!
The DHBC
Valley Wheelers
are planning to do a ride August 16th (Saturday). The start location will be the Tempe Velodrome. We will then take the scenic route out towards Oatly, over the Como Bridge and onto the historic Como Hotel for a beverage and feed to whisk away the winter blues.
(start time yet to be confirmed, but this will be a lunch time event)
This will then be followed on Sunday (17th) by a history talk on early cycling in Sydney 1831 to 1869. This will be presented by our own Valley Wheeler extraordinaire Marc Rerceretnam (note: Lizanne wrote this sentence)
Marc will be doing this talk for the
Ashfield District Historical Society
at 2.30pm on Sunday 17th August at the Pratten Park Bowling Club, 40 Arthur Street, Ashfield (next door to Thirning Villa and the tennis courts).
Regular updates provided at our Sydney Classic Bicycle Show FB page:
https://www.facebook.com/SydneyClassicB ... fref=photo
All are welcome. Please note, a small entry fee may apply (about $2-5, I suspect).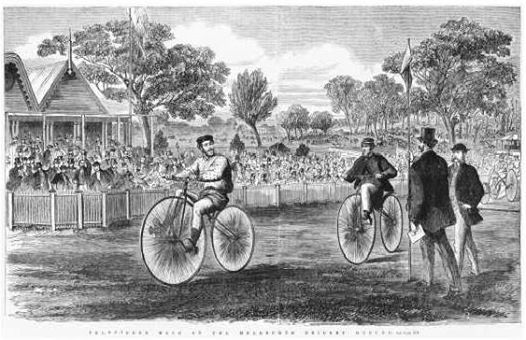 Title:
'An early history of the Velocipede in Australia – with a special emphasis on Sydney's Inner West, c. 1831–1869'

Abstract:
The introduction of the Velocipede into Australia was shrouded in secrecy. Early adherents were loath to show off their vehicles for fear of public ridicule. The press was particularly scathing and such attitudes made Velocipede use a very private activity between the 1820s and 1860s.
However changes began to take hold from the 1860s, when rigid bias began to weaken and ordinary Australians were more willing to express, and allow others to express themselves in a social environment which was more welcoming of new ideas and open to different ways of doing things.
This study also highlights some current misconceptions about the development of the Velocipede, particularly the question about the existence of foot-cranked Velocipedes in the Australian colonies, a good twenty years before they were suppose to be invented.
------------------
For more info on this event, please contact the ADHS directly on:
Email address:
adhs@optusnet.com.au
Postal address:PO Box 20, Ashfield, NSW, Australia 1800. The Society's Rooms are located Pratten Park Bowling Club, Pratten Park, 40 Arthur Street, Ashfield